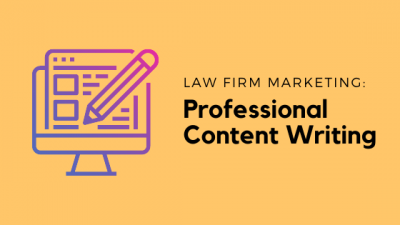 As more and more people spend a great deal of their time online, any attorney or law firm that wants to connect with clients should remember the often-repeated advice that "content is king." Providing helpful, informative, up-to-date content on your website and other marketing channels will ensure that people can find you in online searches, and well-written content will increase the likelihood that potential clients will reach out to you to learn about your services. The best way to make sure you are offering the right information in the right way is to work with a content writing team that is experienced in creating and publishing content such as websites, blogs, and social media posts for attorneys.
Why Do I Need a Content Writer?
As an experienced lawyer, you may feel that it is unnecessary to work with outside writers when creating website pages or publishing blogs. After all, you understand the law, and you regularly explain legal issues to your clients, so you should be able to put together descriptions of your services and practice areas. However, when it comes to online content, there are a variety of issues and concerns that you may not know about. A content writing team can make sure your content is tailored to your needs while also providing the information that people are looking for.
Some benefits that a professional content writer can provide include: