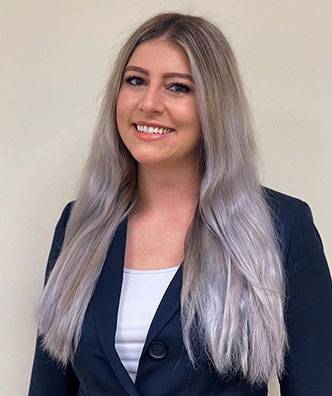 At OVC, INC., we work with a wide variety of attorneys and law firms throughout the United States, helping them build effective marketing strategies that will allow them to connect with potential clients. In addition to working with established firms, we want to encourage future generations of attorneys to learn how they can be successful as they begin practicing law. Our "Market Yourself" scholarship program helps support future lawyers. We are pleased to announce the winner of our Spring 2022 scholarship: Tristin Minx.
Tristin Minx is a student at the DePaul University College of Law in Chicago, Illinois. She is a native of Cook County, and during her time in law school, she has gained hands-on experience in criminal defense cases. For the "Market Yourself" scholarship, she submitted an essay that effectively expressed how she plans to promote herself to potential clients. As the winner, she will receive a $1,000 scholarship to be used for tuition and other educational expenses. To learn more about Tristin, you can read her winning essay.
About OVC's Scholarship Program
Scholarships are a great way for law firms and other companies to give back to the community and support future attorneys or other students. By sponsoring a scholarship, a law firm can promote its values and help encourage the growth of the legal field by assisting future generations. Scholarships can not only recognize and support students who have demonstrated a passion for the law and a drive for success, but they can also provide a firm with other benefits.