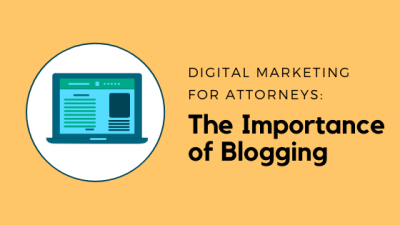 Most law firms understand that they should have a high-quality website that provides information about their services, their attorneys, and the benefits they can provide to clients. However, building and launching a website is only one part of a comprehensive digital marketing strategy. A law firm can increase their website traffic and improve search rankings by regularly publishing blogs that provide value for potential clients. Some of the benefits of blogging include:
Build Trust and Credibility
With a regularly updated blog, you can discuss the legal issues that you address every day when working with your clients. By answering the questions that you are regularly asked and explaining how the law applies in the situations you commonly encounter, you can demonstrate that you have the knowledge and understanding that your clients need. Publishing blogs on a regular basis will allow you to continually expand the helpful information on your site and provide people with knowledge of the legal issues that may affect them while showing that you can help them solve their problems.
Improve SEO
The purpose of your website is to attract potential clients and encourage them to contact you when they need legal representation. These clients will not be able to find your site unless it shows up in search results pages on Google or other search engines. While building a website with quality content is the first step that will help you show up in search results, publishing blogs on your website is a great way to increase your search rankings and make sure more people can find you.