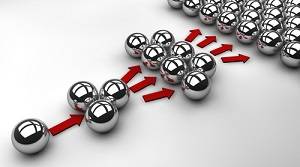 This past weekend, comic book fans were finally rewarded for their patience as one of Marvel Comics' most popular antiheroes arrived in theaters across the country and around the world. Deadpool opened on February 12 and has already broken records, enjoying the largest opening for an R-rated movie ever, surging past $150 million in its first weekend—not bad for a movie with a production budget of less than $60 million. Industry experts contribute much of the film's success to the actors, writers, fight choreography, and cinematography, of course. Many, though, believe the bulk of the credit belongs to unique, pervasive, and borderline offensive marketing strategies that placed Deadpool at the forefront of public consciousness—thanks in large part to social media—long before the movie was ever ready for release.
Marketing Should Match
The world got its first glimpse of the new Deadpool nearly a year ago when 20th Century Fox released a photo of the costumed mercenary in a near-perfect re-creation of Burt Reynolds' 1972 bearskin rug Cosmopolitan centerfold. In the months that followed, the character, played by popular actor Ryan Reynolds (no relation to Burt), began showing up everywhere. The images and videos quickly went viral thanks to their irreverent humor, and their accurate portrayal of the sarcastic, offbeat, gritty "Merc with the Mouth" who is not afraid to offend softer sensibilities.