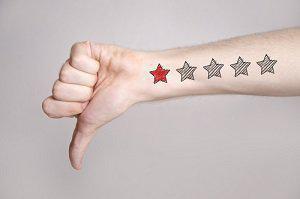 It is important to get one thing out of the way immediately: you are never going completely satisfy every client that walks through your door. That is simply a fact. Of course, you and your team will certainly try and, maybe, by your own standards, you will succeed nearly 100 percent of the time. Your standards, though, are not your customer's standards, and in many cases, what your client was hoping for is not reasonable, realistic, or even possible. The internet age, however, has provided anyone with a screen and a web connection a large variety of platforms to express his or displeasure, no matter how misguided it may be. When a negative review shows up on Google or Yelp about your company, you are able to take back control of the conversation and, possibly, turn the situation into an opportunity for growth.
Take Your Time, But Not Too Much
Before responding to a negative review, you should take a step back and let your initial reaction subside. You are human, so your first impulse probably included the desire to fire back sharply, with carefully-chosen words that informed the poster exactly what he or she could do with his or her opinion. Such feelings are only natural when you feel attacked, and a negative review nearly always feels like a personal attack. For the sake of your company's reputation, control yourself. If a response is appropriate, it will need to be posted quickly, but not necessarily immediately. Calm down first, and come back to it later with a clear head and a subjective attitude.