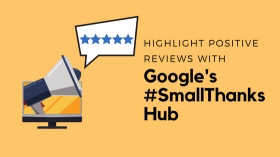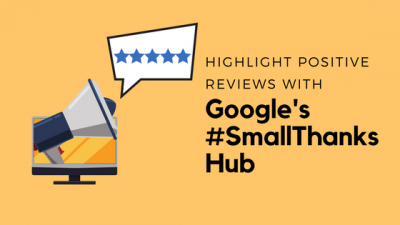 In today's highly competitive online landscape, businesses need to do everything they can to stand out. More people than ever are using Google and other search engines to find local businesses, and the information that is displayed in search results is a major factor that influences people's decisions. Of the different types of information that can be displayed in search results, online reviews are often among the most important.
According to Google, 71% of consumers say they are more likely to do business with a company if it has positive reviews, and businesses which have positive reviews have 360% more clicks to their site from their business listings. As part of its efforts to help small businesses get the most out of Google, the company has created a new tool that businesses can use to generate free marketing materials.
Using the #SmallThanks Hub
With Google's #SmallThanks Hub, any business which has a verified Google listing can create marketing materials which highlight their positive reviews and encourage people to review them on Google. The tool automatically generates images that include quotes from positive reviews or a message encouraging customers to show their support by leaving a review or sharing a photo.