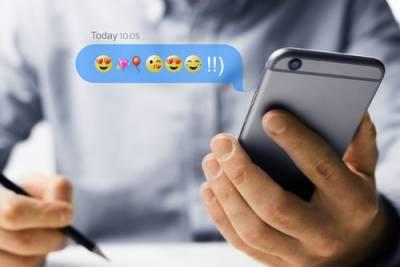 Emojis, it seems, are everywhere these days, and not just in text messages from your children. The little icons—evolving from the ubiquitous yellow smiley face in the early days of the internet—can now be found on t-shirts, as plush toys, and even in upcoming feature film. For many people, emojis are associated with casual conversation and informal messaging, but a new study suggests that including them in your company's mobile marketing campaigns could pay handsome dividends.
The Power of Images
The word "emoji" has origins in the Japanese language and is a combination of "e," the Japanese word for "picture," and "moji," meaning "character." You may have heard people referring to the little pictures as "emoticons," but there are technical differences between the two, and the similarity of the two words is entirely coincidental. Without going into too much detail, an emoji is a pictorial representation of a thought, idea, or expression—such as a yellow winky-face—while an emoticon is a text-based display of an emotion—such as ;-).
Over time, emojis have evolved to include more than just facial expressions. Today, you can send images of a car, a clock, astrological signs, or a bouquet of flowers—among countless others—in your text messages and emails. Using emojis can often convey concepts and ideas faster and more concisely than simple text.
New Research
In a recent study conducted by Leanplum, a mobile marketing platform, and App Annie, an application analytics company, researchers analyzed more than 2.6 billion push notifications and how consumers responded to them. (A push notification is a message that pops up on a mobile device prompted by an app or service to which the user is subscribed.) The study found that notifications which included emojis were opened 85 percent more often than those without the little images.
Android users were particularly drawn to emojis, opening the notifications with emojis 135 percent more than those without. Users of Apple's iOS opened emoji-containing notifications 50 percent more often. Conversion rates seemed to improve as well, as when emojis were used, users clicked the notification's call to action 9 percent more often.
Putting Emojis to Use
While your firm may have little interest in using push notifications in your marketing campaigns, it is helpful to understand what piques consumer interest. If emojis can be used to prompt prospective clients into taking action as the study suggests, you may consider using them reasonably in email marketing or social media communications. Using such icons properly can be a good way to make personal connections with would-be clients while maintaining a respected, professional image.
At OVC, INC., we understand that the world of digital marketing is constantly evolving, and keeping up with the changes can be very difficult, especially for law firms. Our marketing professionals work hard to stay up to date with the latest trends and tools that can help you reach wider audiences than ever before. Call 630-635-8000 today to learn more about how we can assist you with your marketing strategies.
Sources:
https://www.entrepreneur.com/article/289892
http://www.marketingdive.com/news/more-than-a-gimmick-how-emojis-might-find-lasting-marketing-appeal/435457/
http://www.iemoji.com/articles/where-did-emoji-come-from
https://www.theguardian.com/technology/2015/feb/06/difference-between-emoji-and-emoticons-explained