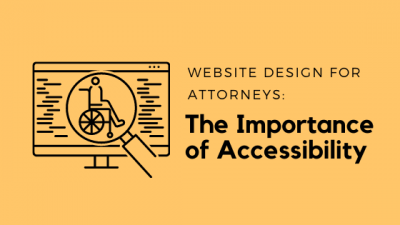 In the 21st century, we spend much of our lives online. However, while browsing websites, performing online searches or using mobile apps is a simple and easy process for most people, those who have disabilities often struggle to navigate the internet. Because of this, advocates for the disabled have worked to ensure that websites can be used by everyone, and in fact, some companies have even faced lawsuits for failing to provide accessible websites. By following accessibility guidelines during the website design process, law firms can avoid these issues and ensure that they can connect with potential clients with disabilities.
What Are Accessibility Guidelines?
The Americans with Disabilities Act (ADA) is the law that is most often used in cases related to website accessibility. Under the ADA, people with disabilities cannot be discriminated against in places of "public accommodation." This is the basis for many of the lawsuits regarding website accessibility, since courts have found that websites fall into the category of places of public accommodation.
The ADA does not list technical standards for what makes a website accessible, but in many cases, the Web Content Accessibility Guidelines (WCAG) are used to determine whether a site can be used by those with disabilities. These guidelines were created by the World Wide Web Consortium (W3C) Web Accessibility Initiative (WAI), and they are regularly updated based on changes in technology, design trends, and any other issues that can affect the way people with and without disabilities use websites and digital technologies.