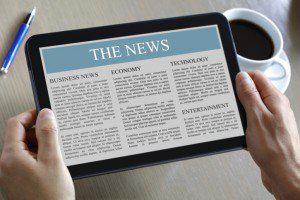 We are living in the future. Understanding this idea and incorporating it into your website and marketing strategy is vital to the long-term success of your company.
In generations past, a stereotypical breakfast table, or at least the idyllic image of one, consisted of kids eating and chatting excitedly about the day, while Mom and Dad sipped coffee and read the newspaper. Whether scanning national headlines or checking the box score of last night's ballgame, the consumption of printed news and information was a social staple for many years.
This, of course, has changed drastically in the last several decades as more people have become reliant on electronic media to keep the abreast of the world around them. For many, the morning newspaper has been replaced by an iPad or Android tablet, allowing instant access to infinitely more information than ever before. Others may scroll through news feeds or web browsers on their mobile phone, allowing them the same access to the digital world on a smaller screen.