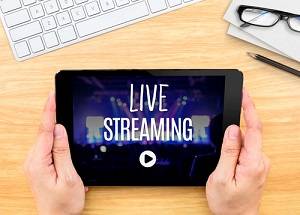 The world's largest social media outlet has set its sights on a new type of online connectivity that may eventually blur the line between social networking and television-type entertainment. This week, Facebook announced that it would be rearranging its mobile interface to bring increased attention to its live streaming video feature that allows users to share real-time video updates with their friends and followers. Live video, thus far, has only been available on Facebook for media publishers and high-profile celebrities, but bring the feature to all users has been a priority for CEO Mark Zuckerberg. While the effort is still in its infancy stages, the increased traffic and unique connections offered by live video promise to provide interesting opportunities for marketing products and services.
Beyond the Social Network
To many people, Facebook will always be a social media site—a forum for connecting with friends and loved ones and browsing during leisure time. The company and CEO, however, see the site as so much more than that, and, over the last few years, have really started to demonstrate why. Facebook boasts over 1.5 billion users around the world, giving it the power to bring people together on a scale that is unprecedented throughout human history. Users check their News Feeds on a regular basis—often several times an hour—to keep up with friends, loved ones, the latest Hollywood gossip, and even newsworthy current events and commentary.