Spring 2022 OVC Scholarship Winner
Tristin Minx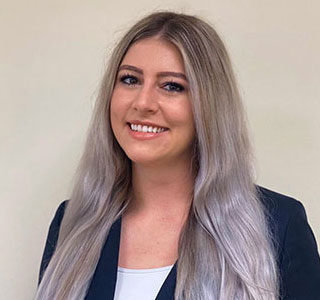 We are thrilled to announce that Tristin Minx, a student at the DePaul University College of Law, has been selected as the very first OVC, INC. "Market Yourself" Scholarship winner. Our scholarship is offered to high-achieving law students who submit an essay that clearly expresses how they would brand themselves and their future law firm to effectively connect with the clients they want to serve.
Read Tristin's Essay:
Tristin Minx is a highly qualified criminal lawyer serving Chicago and its neighboring suburbs within Cook County. Tristin is a Cook County native. She was born and raised in the Chicago suburb of Morton Grove and moved into Chicago's "Wrigleyville" neighborhood shortly after completing her undergrad education in Political Science and Sociology at the University of Illinois Urbana-Champaign. Tristin graduated from DePaul University College of Law in Chicago in 2022. During her three years of legal education, Tristin has become seasoned in defending both misdemeanor and felony charges throughout the Cook County legal system. She worked at a small criminal defense firm, Gottreich and Levinsohn, for all three years at DePaul. As a result of this work, Tristin received invaluable hands-on experience working directly with clients dealing with criminal charges in Cook County courts, in addition to assisting with cases from DuPage, Lake, and Kane counties as well. Throughout her formal legal education, Tristin has been mentored by practicing attorneys and judges alike, providing her with unmatched insider experience to the ins and outs of the Chicagoland criminal defense experience.
In order to provide clients with the most effective and complete defense, Tristin works tirelessly to study the case from both the client and prosecution's point of view. She leaves no stone left unturned. As a litigator, Tristin is fearless in the courtroom. She has a natural talent with public speaking and is not afraid to have her voice heard when representing clients. You will always leave court feeling that Tristin gave you and your case 100% of her effort.
Tristin has a knack for connecting with people from all walks of life. She will not only be a zealous advocate for you in court, but she will also become a lifelong contact of yours. Tristin cares deeply for all of her clients. No matter the issue at hand, Tristin will listen to your concerns, create a plan of attack that you feel confident in, and work diligently so that you have the best possible outcome in the least amount of time.
No case is too big or too small. If you need a criminal lawyer, look no further! Talk with Tristin today.